From solidarity donation to investment in social enterprises: impact investing projects
In order to further qualify our social investments, in 2015 we established a partnership with Opes Foundation, a qualified fund for investments in high social impact entrepreneurial projects. We thus acquired the role of provider of philanthropic capital to invest through Opes in economically viable businesses able to promote social progress and emancipation from poverty. Opes is the first Italian Social Venture Capital able to fund social enterprises operating in critical development areas: health, access to water and basic sanitation, energy, education, and food sovereignty. Its mission is to support social enterprises and enlightened entrepreneurs who propose innovative and durable solutions to meet the most persistent needs of the population at the foot of the social ladder. Opes targets existing social enterprises located in East Africa (Kenya, Uganda, Tanzania) and India when they are at an early stage of development, trying to validate their business model. Opes channels philanthropic capital, in form of investments, to pursue social impact and financial returns. All funds returning to Opes are reinvested in new social enterprises.
KADAFRICA project
Date of investment: June 2016
Amount of investment: $100,000 (40,000 Euro disbursed by SEA)
KadAfrica is a company founded in 2011 based in Fort Portal (Uganda) that produces and markets passion fruit.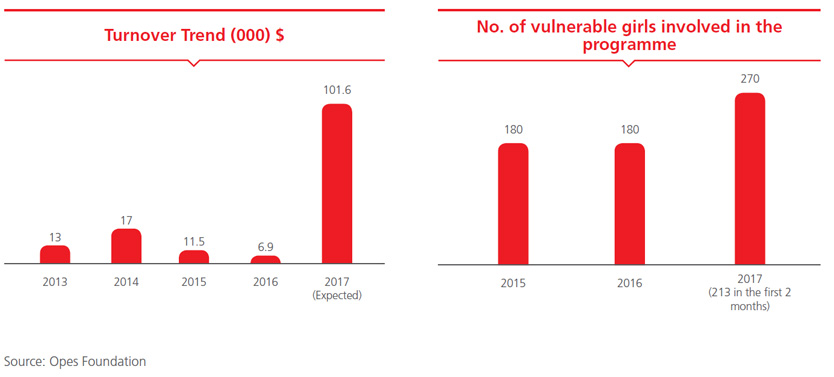 At the initial stage, the supply of products was ensured solely by a network of hundreds of local growers (marginalized girls with histories of abuse and deprivation) that KadAfrica supported and continues to support with a programme of agronomic training and induction to entrepreneurship. In 2016, KadAfrica reformulated its business model. In addition to the network of growers (OSGs), it aimed to include local farmers (OGs), as well as the production and sale of seeds and the direct management of agricultural land. To date it deals only with fresh product, but for the future, when it becomes fully operational, it plans to expand its activities by building a processing plant so that it can also produce fruit pulp, much in demand by the beverage industry.
Managing the girls' training programme directly (previously it was run in partnership with the local Caritas) has led to delays in meeting the objectives. This has greatly diluted the implementation times of the other planned activities (local farmers' programme, seed production and sale, starting cultivation on the owned land) that were to be launched at the same time to diversify revenue.
"The Water Shop Naivasha" project
Date of investment: June 2016
Amount of investment: $160,000 (40,000 Euro provided by SEA)
The Water Shop Naivasha is a social enterprise that operates under the "PureFresh" brand, based in Kenya, in Naivasha (80,000 inhabitants, 90 km north-west of Nairobi). Active since 2010, PureFresh deals in extracting, purifying and marketing drinking water (both bulk and bottled).Water scarcity and quality are critical issues for the country. In Kenya, about 17 million people (43% of the population) do not have access to safe drinking water.
Most low-income families can only access contaminated water, with very serious health consequences.
The Water Shop company draws water from a well, purifies it in a plant using reverse osmosis, and distributes it through a network of four stores located in different areas of the city. PureFresh started its activities by opening two shops in Naivasha, then another two over the years. In 2015, the company started testing a new expansion model by installing five automatic drinking water dispensers placed in other existing stores, to increase volumes, reduce operating costs, and apply prices that could make its product more accessible to low-income customers.
In 2016, a further investment was made by Opes with SEA and two other American investors to scale up the pilot: from five distributors to twenty in the cities of Naivasha and Nakuru. The business model has been modified, favouring the franchise model, which has proved to be more effective in reaching more people and lowering the price of water.