The capacity of an airport, which in Italy is set by ENAC with the involvement of concerned parties (ENAV and the airport operator), is determined by the receiving possibilities of the individual airport, which in turn depend on:
sectoral aviation plan, i.e. air traffic management and control capabilities of ENAV;
runway system and related infrastructure, particularly aprons and terminals;
traffic demand factors;
environmental restrictions such as noise suppression procedures and flight suspensions at night.
Airport capacity is definable according to the number of "movements per hour" ("movement" means an aircraft landing or taking off, regardless of type of traffic). The capacity of Milan airports was established by ENAC at a total of 88 movements per hour, broken down as follows:
Malpensa Airport: 70 movements/hour (counting take-offs and landings together);
Linate airport: 18 movements/hour (counting take-offs and landings together);
The distribution of movements between Malpensa and Linate has been defined according to the reorganization of Milan airport system, in favour of the development of Malpensa.
Malpensa airport capacity
The capacity of Malpensa airport is subject to further limitations of:
39 take-off movements (i.e. movements of the same type, landings or take-offs separately) and 31 opposing movements (i.e. movements of different types, take-offs and landings jointly) each hour;
6/7 similar movements every 10 minutes, 6/7 similar movements in the subsequent 10 minutes (up to 13 similar movements every 20 minutes) and 5 opposing movements every 10 minutes.
Time slots have some margins of further exploitation that can be used in the future by carriers already operating at the airport or by new carriers.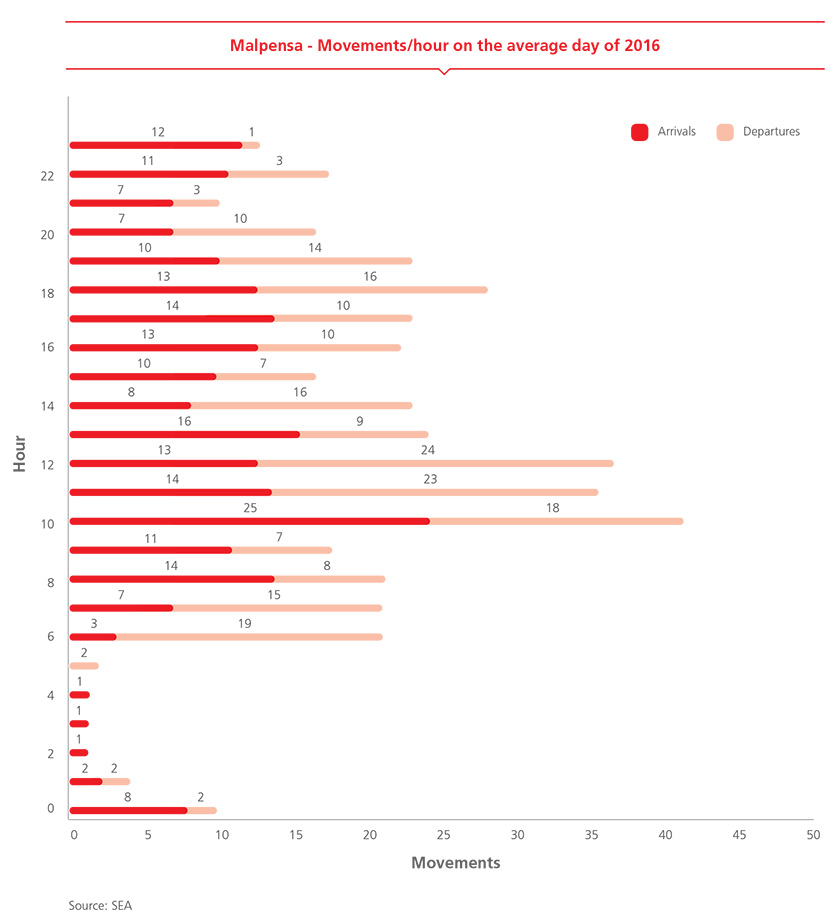 Linate airport capacity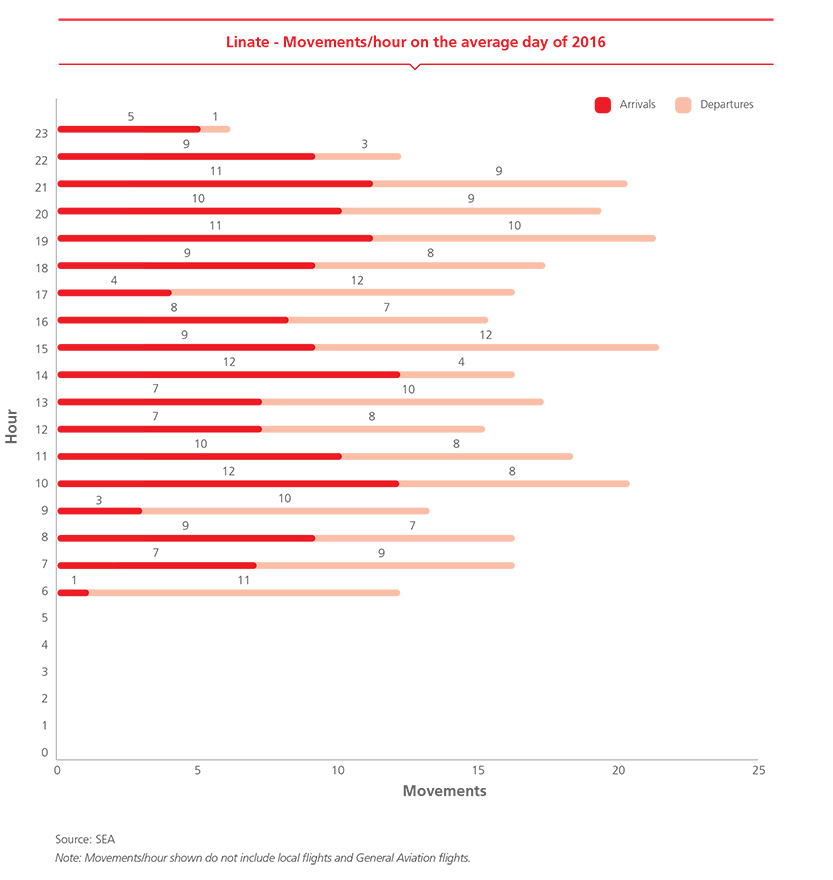 The Linate airport infrastructure can handle a capacity of around 32 movements per hour, but the airport operates with a traffic limitation threshold of 18 movements per hour, introduced by the Bersani and Bersani bis Decrees. This capacity has been set for commercial flights and does not include local flights (i.e. flights to and from particular disadvantaged regions of Italy, including Sicily and Sardinia, which provide links to the main Italian airports) and General Aviation flights.