The organizational structure of SEA is divided into different departments and staff functions, each of them respectively reporting to the Chairman, Chief Corporate Officer, Chief Operating Officer and Chief Financial and Risk Officer.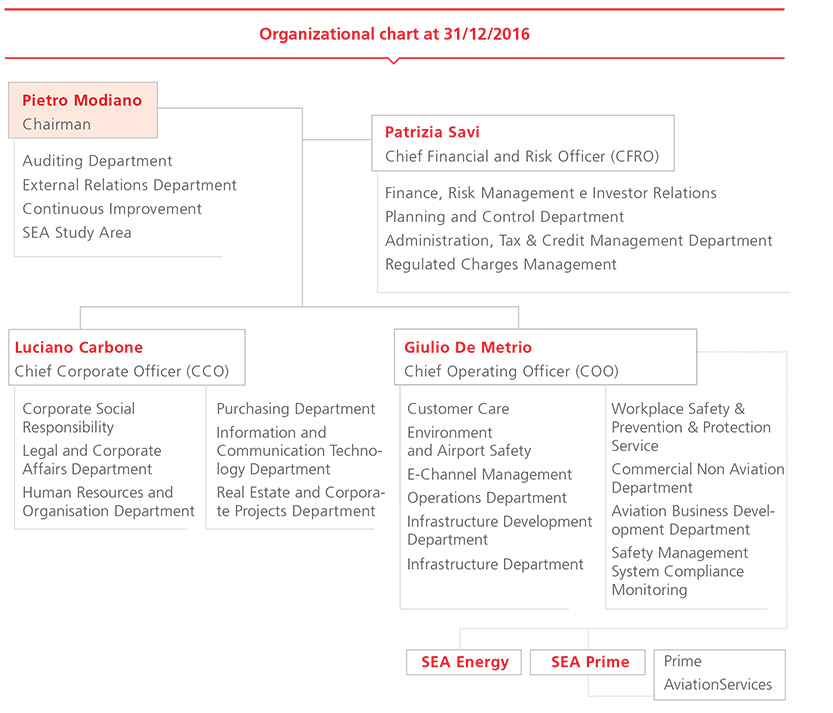 SEA has adopted a Steering Process as an operating and control management method which, through the cross and inter-departmental involvement of the operating management and staff of the Company, seeks to achieve the business targets and strengthen team spirit. The Steering Process is broken down into seven committees:
Executive Committee
Develops the corporate strategic guidelines and oversees the implementation of consequent actions, also ensuring the management of any disclosure and authorisation process established by the governance model.
Group Business Development Committee
Analyses and evaluates qualifying development projects and/or investments for corporate business strategies, while also ensuring the review of potential risks/opportunities.
Group Management Committee
Ensures the management's information alignment on business targets of cross-company nature and interest.
Group Business Execution Committee
Examines the performance of airports in the specifics of their respective economic, operational, infrastructural and commercial aspects, as well as monitoring the actions taken.
Group Business Economics Committee
Ensures integrated disclosure on the main economic, financial and administrative aspects concerning the management of the Group, developed through a reporting system and the defined disclosure standards, in order to identify the points of attention and to address any corrective action.
Safety Board
Analyses and evaluates the monthly safety performance of airport operations and directly or indirectly related issues/problems (including insurance implications) in order to decide the actions for the resolution of problems identified and the introduction of initiatives for effective prevention.
Steering Process

Steering Process
Executive Committee
Group Business Development Committee
Group Management Committee
Group Business Execution Committee
Group Business Economics Committee
Safety Board
Chairman
x
x
x
Chief Operating Officer
x
x
x
X
X
X
Chief Corporate Officer
x
x
x
X
X
X
Chief Financial and Risk Officer
x
x
x
X
X
Accessibility of the Airport System and Special Projects
X
X
Administration, Tax and Credit Management
X
X
Auditing
X
Aviation Business Development
X
X
X
Commercial Non Aviation
X
X
X
Corporate Social Responsibility
X
X
Airport Coordination
X
Customer Care
X
X
X
E-Channel Management
X
Environment and Airport Safety
X
X
Finance, Risk Management and Investor Relations
X
X
X
Information and Communication Technology
X
X
X
Infrastructure
X
X
X
Legal and Corporate Affairs
X
X
Operations
X
X
X
X
Planning and Control
X
X
X
Integrated Operational Planning
X
Purchasing
X
X
X
Real Estate and Corporate Projects
X
X
X
External Relations
X
X
X
Human Resources and Organization
X
X
X
X
Occupational Safety and Prevention and Protection Service
X
X
Technical Director of SEA Energia
X
X
X
Project managers or special initiatives
X
X