Quality of the commercial offer
In 2011, SEA introduced the "Mystery shopping", a quality-assurance tool for commercial services, based on visits and interviews by "incognito" personnel, with the aim of gathering structured information on the shopping experiences of airport users. At the sales point, the mystery shopper, undertaking the experience of a "typical client" focuses upon:
attitude and conduct of sales personnel;
level of knowledge and professional ability;
problem solving capacity;
sales skills, customer attention ability and proposal of complementary purchases;
capacity to listen, empathy and demeanour;
fulfilment of corporate philosophy;
in-store feel.
During 2016, the session involved 219 commercial enterprises for a total of 795 visits, broken down by type of shop and location in the airports.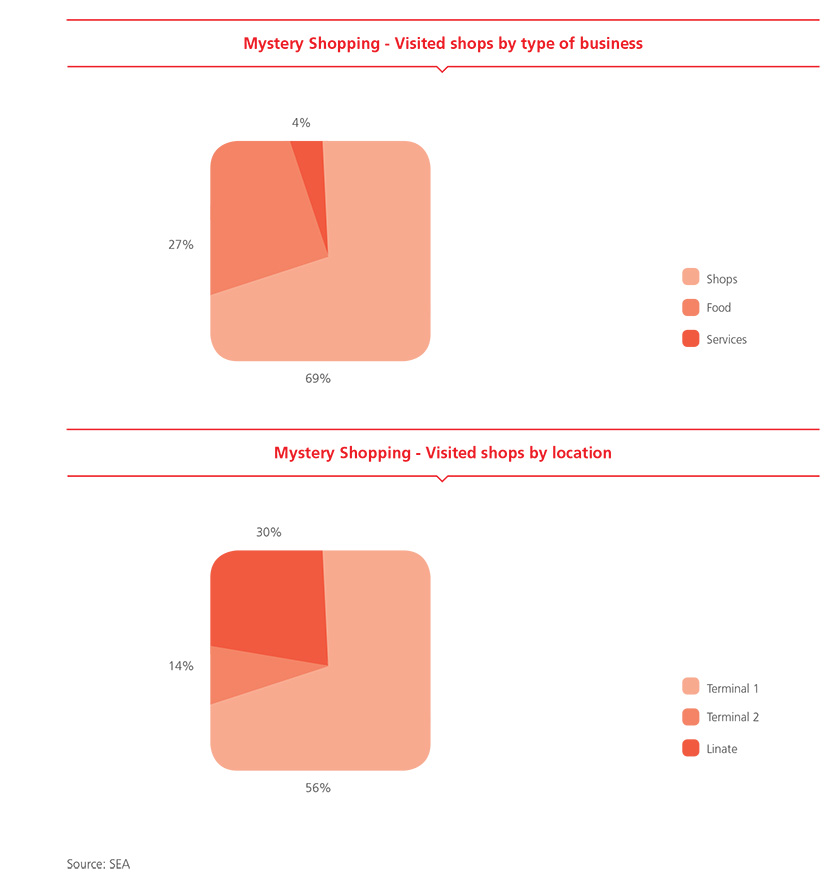 Perceived quality of commercial activities at the airports operated by SEA in 2016 stood at an average of nearly 76.86/100, slightly higher than the previous year.
Impression that customer is left with is overall positive in over 4 out of 5 cases.
At all airports, the share of those who say they are "satisfied" with the experience (especially at Malpensa Terminal 1) has grown, although at Malpensa Terminal 2, the share of passengers who said they were "very satisfied" has slightly dropped.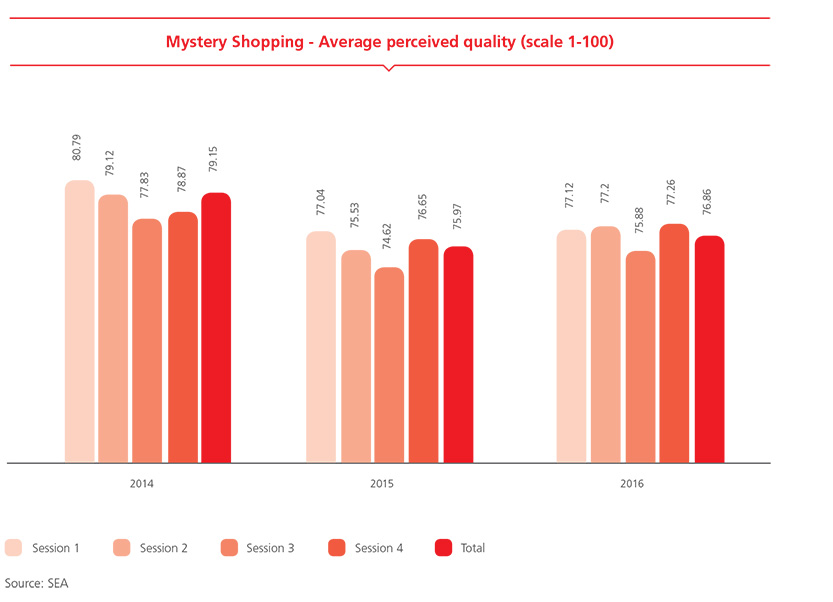 Looking at data according to the type of business, services and shops are above the general average (77.89 and 77.47 respectively), while food category (75.18) is lower than the general average (76.86), even though it improved compared to the 2015 figure (72.77).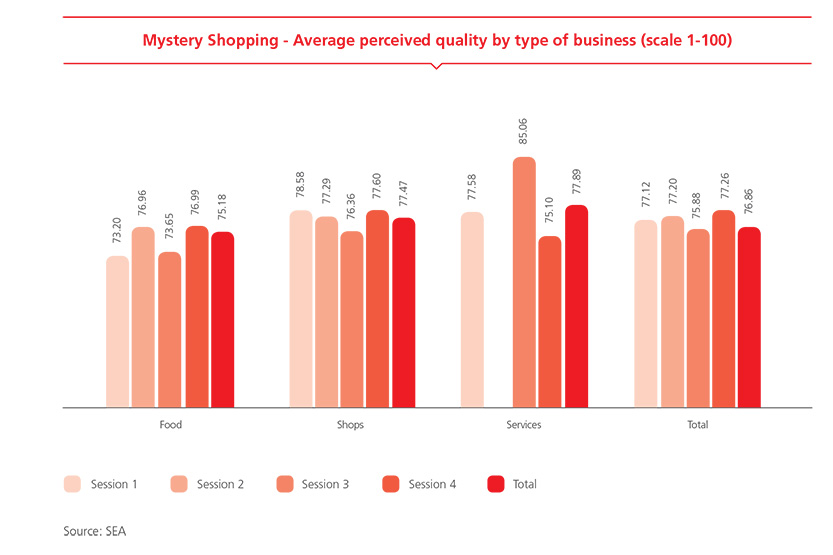 Regarding the performance of the various airports, Linate has improved, Malpensa Terminal 1 has remained essentially stable, while Malpensa Terminal 2 also made some progress.
Comparing average values, value perceived by the customer compared to the value provided confirmed the 2015 trend: the perceived value is on average higher than the provided value. The exceptions are the Food businesses.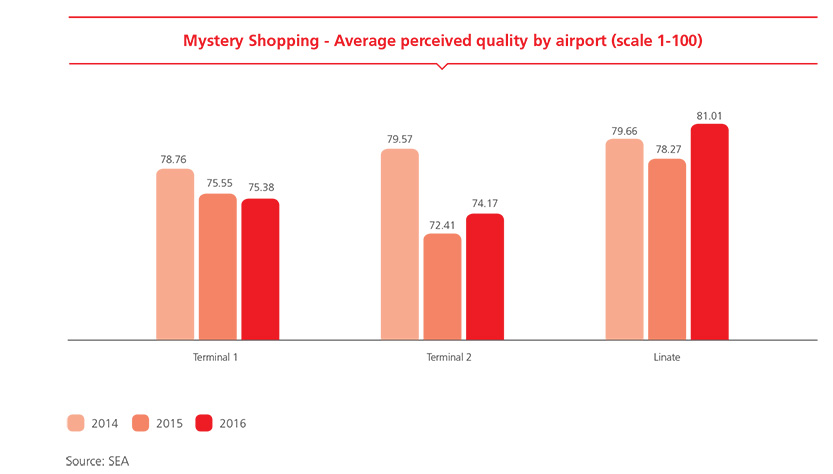 Observing the average value of perceived quality in the 2014-2016 three-year period, there is a more marked decrease for Malpensa airport, while Linate airport shows a trend reversal in 2016.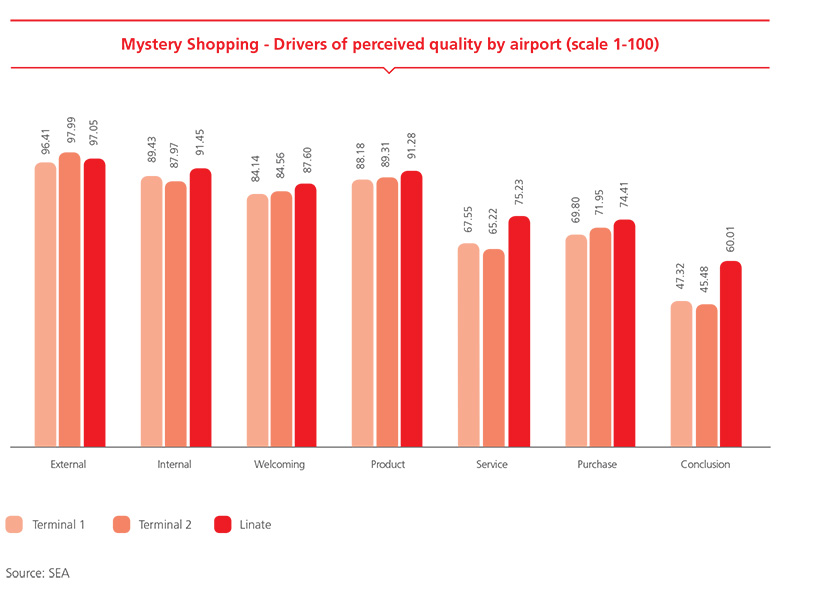 2016 Mystery Shopping survey reports an average improvement compared to 2015. Shopping experience at the three airports highlights a good result for facilities, product and reception, while declining on issues such as service, purchase and conclusion of sale.